Father of the Nation Mahatma Gandhi in his interactions stressed the core values of compassion & care for humanity in all their actions, Speaking to the medical fraternity Gandhi said: "if you can serve with a spirit of selfless dedication, you derive boundless and real happiness".
True to the spirit of selfless service, Dr. Vilas Naikwadi's life mission to serve the rural masses through institution brought him to the tiny town of Ghataprabha. Then, J G Cooperative Hospital, Ghataprabha has had single-digit OPD & IPD. The zeal, enthusiasm, commitment to the medical profession & the support of J G Cooperative management played as a springboard for launching his plans. Then ailing hospital has seen a sudden upswing in the form of innovative ideas and programs. Dr. Naikwadi's relentless contribution of over 2 decades is the standing testimony of J G Cooperative Hospital's success story. One man with courage is a majority is be-fittingly applicable to Dr. Naikwadi's tireless efforts.
Dr. Vilas Naikwadi, born in Bugadkatti (Gadhinglaj-Taluk) on 24-08-1944 did his primary education in Kudachi, Raibag, Sankeshwar and PUC from RLS College, Belagavi. Then, completed his MBBS (1964-68) from KMC, Hubli & went on to do his MS (Gen. Surg) 1978-80 from the prestigious JIPMER, Pondicherry. His passion to serve the rural communities brought him to J G Cooperative Hospital, Ghataprabha.
With the support of management, Dr. Naikwadi has been instrumental in establishing J G Cooperative Ayurveda College, a Nursing school, Hostels, & top-notch Naturopathy Centre which attracts people from far & wide for wellness treatment. The Naturopathy Centre soon shot into fame and is the only comprehensive Naturopathy Centre between Bengaluru &Mumbai. His service to J G Cooperative hospital from 1981-2004 spanning over 2 decades is the golden period in the history of JG Co-Op Hospital & group of Institutions. He has examined over 5 lakh patients and operated on close to 70,000 patients. He has been instrumental in organising ACRSI conference in 1990 at Belgaum as an Organizing Secretary successfully completed the conference. He has been President of the Association of Colo-Rectal Surgeons of India since 1999.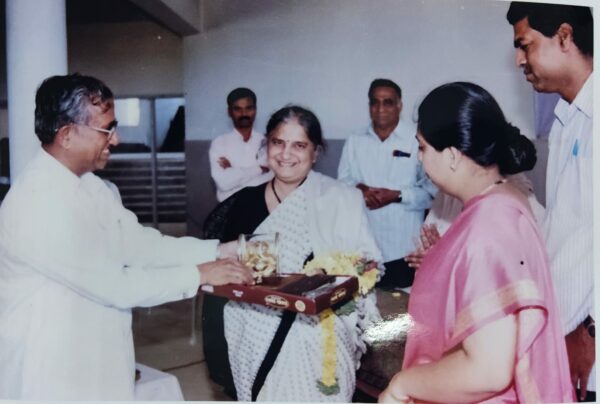 This doctor has worked relentlessly for 12-14 hours in the day to save the lives of the poor living in the rural areas. Leaving aside a life of comfort, luxury & financial benefit, Dr. Naikwadi has to toil it out in the villages to serve the underprivileged, marginalized brothers and sisters. He is 78 years young during this interview at around 9 PM busy in attending two emergency cases. It speaks volumes about his commitment to the medical profession.
After over two decades of a stint at J G Cooperative Hospital, as a private practitioner, he served at Gadhinglaj town from 2005-2008 but the love, affection & demand people brought him back to Ghataprabha. He established Naikwadi Medical Centre in 2010 and Physio-Wellness Centre in 2022 at Shirdhan. He conducts regular OPDs & operates in Ghataprabha Naikwadi Hospital. Through Shantlingeshwar Lok Kalyan Trust Counselling for people suffering from Psycho-Somatic disorders is under taken by expert counsellors.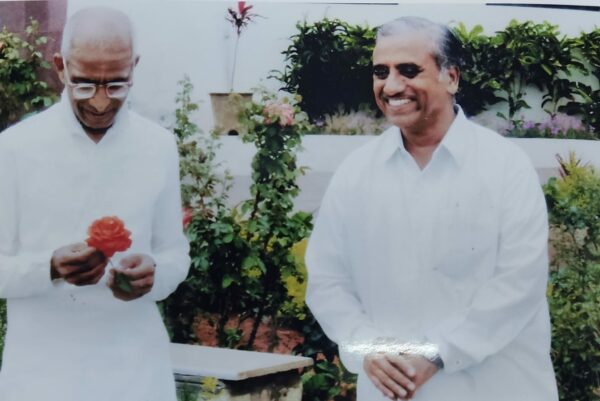 Dr. Naikwadi said, medicine is the noblest of professions, the field of medicine is not just about treatment and disease. A real doctor is one that understands his patients and their troubles. Dr. Vilas Naikwadi is one of the very few doctors who fall in this category. With pride Dr. Naikwadi says, I have imbibed the culture of serving rural community to my son Dr. Vivek, who is Orthopaedic Surgeon serving at Shirdhan (Hukkeri-Taluk) & his daughter-in-law Dr. Soumya, OBG specialist serving in Nidsoshi Health Centre. Another son Arvind is serving at IBM, Bengaluru.
With pride Dr. Naikwadi admits that he derives inspiration from Dr. Metgud, Dr. P N Joshi, an eminent Surgeon, Mumbai and Dr. Indru Khubchandani, Colo-rectal Surgeon. Thanks to the recent technological advancement in imaging science which provide an accurate diagnosis. CT Scan, MRI's, Gastroscopies reports are very useful for the surgeon to plan further interventions. He has word of advice for young medicos, does your best and never harm the patients. Think twice before you act. It takes 5-6 years of hard toiling before you establish yourself as a good surgeon. Dr. Naikwadi candidly admits that every patient is a teacher and I still learn a lot from each patient. Medicine is an ongoing, continuous process. If you stop learning you will vanish. In this neck throat competitive world 'ETHICS' is most important. People trust doctors, you must rise to the expectations of the patients/relatives is the word of advice from Dr. Naikwadi.
He is the founder President of Giants Club, Ghataprabha. He is a writer, music lover, and composer of Bhajans (devotional songs) & has delivered n number of health awareness lectures, conducted health camps in inaccessible rural places. He scripted a book based on the discourses of His Holiness Shri. Siddeshwar Swamiji, a book titled "Working Hands & Loving Heart".
At the end of the discussion, he reiterated his continued commitment to sick, and downtrodden and work to improve their quality of life. Dr. Vilas Naikwadi stands tall among the medical fraternity. myarogya.in health portal wishes him all the best on behalf of the citizens of this country. We pray to almighty God to bestow good health to him.
Article published in association with https://myarogya.in/